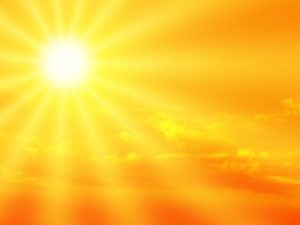 Two recent studies link low vitamin D levels with more aggressive cancers: aggressive prostate cancer in men and more aggressive breast cancers (in mice and women). Researchers generally advise people to take 1000 to 2000 international units per day of vitamin D3 to maintain normal blood levels of of more than 30 nanograms/milliliter. The best source of vitamin D is sunlight, which is why vitamin D is frequently called the sunshine vitamin.
From Science Daily:  Low vitamin D predicts aggressive prostate cancer
A new study provides a major link between low levels of vitamin D and aggressive prostate cancer. Northwestern Medicine research showed deficient vitamin D blood levels in men can predict aggressive prostate cancer identified at the time of surgery.
"Vitamin D deficiency may predict aggressive prostate cancer as a biomarker," said lead investigator Dr. Adam Murphy, an assistant professor of urology at Northwestern University Feinberg School of Medicine and a Northwestern Medicine urologist. "Men with dark skin, low vitamin D intake or low sun exposure should be tested for vitamin D deficiency when they are diagnosed with an elevated PSA or prostate cancer. Then a deficiency should be corrected with supplements."
Aggressive prostate cancer is defined by whether the cancer has migrated outside of the prostate and by a high Gleason score. A low Gleason score means the cancer tissue is similar to normal prostate tissue and less likely to spread; a high one means the cancer tissue is very different from normal and more likely to spread. The study was part of a larger ongoing study of 1,760 men in the Chicago area examining vitamin D and prostate cancer. The current study included 190 men, average age of 64, who underwent a radical prostatectomy to remove their prostate from 2009 to 2014.
Of that group, 87 men had aggressive prostate cancer. Those with aggressive cancer had a median level of 22.7 nanograms per milliliter of vitamin D, significantly below the normal level of more than 30 nanograms/milliliter. The average D level in Chicago during the winter is about 25 nanograms/milliliter, Murphy noted....The Institute of Medicine recommends 600 international units of D per day, but Murphy recommends Chicago residents get 1,000 to 2,000 international units per day.
From Medical Xpress:  Vitamin D deficiency contributes to spread of breast cancer in mice, study finds
Breast tumors in laboratory mice deficient in vitamin D grow faster and are more likely to metastasize than tumors in mice with adequate levels of vitamin D, according to a preliminary study by researchers at the Stanford University School of Medicine.The research highlights a direct link between circulating vitamin D levels and the expression of a gene called ID1, known to be associated with tumor growth and breast cancer metastasis.
The finding builds upon several previous studies suggesting that low levels of vitamin D not only increase a person's risk of developing breast cancer, but are also correlated with more-aggressive tumors and worse prognoses. Although the research was conducted primarily in mice and on mouse cells, the researchers found in a study of 34 breast cancer patients that levels of circulating vitamin D were inversely correlated with the expression levels of ID1 protein in their tumors, and they confirmed that a vitamin D metabolite directly controls the expression of the ID1 gene in a human breast cancer cell line.
Once ingested or made by the body, vitamin D is converted through a series of steps into its active form, calcitriol. Calcitriol binds to a protein in cells called the vitamin D receptor, which then enters the cell's nucleus to control the expression of a variety of genes, including those involved in calcium absorption and bone health.
In the new study, Williams and Aggarwal investigated whether vitamin D levels affected the metastatic ability of mouse breast cancer cells implanted into the mammary fat pad of laboratory mice. One group of 10 mice was first fed a diet lacking in the vitamin for 10 weeks; the other 10 received a normal dose in their food. Mice fed a diet deficient in vitamin D developed palpable tumors an average of seven days sooner than their peers, and after six weeks of growth those tumors were significantly larger in size than those in animals with adequate vitamin D levels.