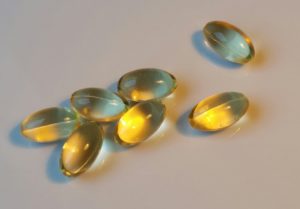 More studies are finding that supplementing with vitamin D is not living up to its original promise - that is, as a supplement that can prevent or treat all sorts of health conditions. Two recent large studies found that daily vitamin D supplementation in persons with or without a vitamin D deficiency didn't reduce the risk of getting COVID-19.
Both studies found that no matter the vitamin D dose - low (800 IU/day), high (3200 IU/day), or even taken as a cod liver oil supplement -  didn't prevent COVID infection, serious COVID, or any other respiratory infection. Very disappointing findings!
The researchers stress that both study results underscore that the COVID vaccines are the best way to protect a person from COVID-19 or a serious COVID illness. They advise that only persons with a vitamin D deficiency need vitamin D supplements. [Note: The best form of vitamin D is D3, which was given to the study participants.]
However, it must be pointed out that some other studies have found that vitamin D does lower how many respiratory infections a person gets each year (while other studies find no effect). So we'll see... more studies are ongoing.
From Medscape: Vitamin D Supplementation Shows No COVID-19 Prevention
Two large studies out of the UK and Norway show vitamin D supplementation has no benefit — as low dose, high dose, or in the form of cod liver oil supplementation — in preventing COVID-19 or acute respiratory tract infections, regardless of whether individuals are deficient or not.
The studies, published this week in The BMJ, underscore that "vaccination is still the most effective way to protect people from COVID-19, and vitamin D and cod liver oil supplementation should not be offered to healthy people with normal vitamin D levels," writes Peter Bergman, MD, of the Karolinska Institute, Stockholm, Sweden, in an editorial published alongside the studies.
Suboptimal levels of vitamin D are known to be associated with an increased risk of acute respiratory infections, and some observational studies have linked low 25-hydroxyvitamin D (25(OH)D) with more severe COVID-19; however, data on a possible protective effect of vitamin D supplementation in preventing infection have been inconsistent.
UK Study Compares Doses
To further investigate the relationship with infections, including COVID-19, in a large cohort, the authors of the first of the two BMJ studies, a phase 3 open-label trial, enrolled 6200 people in the UK aged 16 and older between December 2020 and June 2021 who were not taking vitamin D supplements at baseline.
Half of participants were offered a finger-prick blood test, and of the 2674 who accepted, 86.3% were found to have low concentrations of 25(OH)D (< 75 nmol/L). These participants were provided with vitamin D supplementation at a lower (800 IU/day; n = 1328) or higher dose (3200 IU/day; n = 1346) for 6 months. The other half of the group received no tests or supplements.
The results showed minimal differences between groups in terms of rates of developing at least one acute respiratory infection, which occurred in 5% of those in the lower-dose group, 5.7% in the higher-dose group, and 4.6% of participants not offered supplementation.
Similarly, there were no significant differences in the development of real-time PCR-confirmed COVID-19, with rates of 3.6% in the lower-dose group, 3.0% in the higher-dose group, and 2.6% in the group not offered supplementation.
Traditional Use of Cod Liver Oil of Benefit?
In the second study, researchers in Norway, led by Arne Soraas, MD, PhD, of the Department of Microbiology, Oslo University Hospital, evaluated whether that country's long-held tradition of consuming cod liver oil during the winter to prevent vitamin D deficiency could affect the development of COVID-19 or outcomes.
For the Cod Liver Oil for COVID-19 Prevention Study (CLOC), a large cohort of 34,601 adults with a mean age of 44.9 years who were not taking daily vitamin D supplements were randomized to receive 5 mL/day of cod liver oil, representing a surrogate dose of 400 IU/day of vitamin D (n = 17,278), or placebo (n = 17,323) for up to 6 months.
In contrast with the first study, the vast majority of patients in the CLOC study (86%) had adequate vitamin D levels, defined as > 50 nmol/L, at baseline.
Again, however, the results showed no association between increased vitamin D supplementation with cod liver oil and PCR-confirmed COVID-19 or acute respiratory infections, with approximately 1.3% in each group testing positive for COVID-19 over a median of 164 days.
Supplementation with cod liver oil was also not associated with a reduced risk of any of the coprimary endpoints, including other acute respiratory infections.