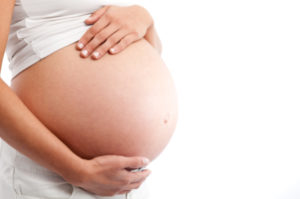 The reality is that we are exposed to thousands of industrial chemicals in our daily lives - in our foods, products, even in dust. Chemicals can get into us through ingestion (food and contaminated water), through inhalation (in dust and contaminated air), and can even be absorbed through the skin. Blood and urine tests can measure the chemicals that we have been exposed to - this is called biomonitoring. Of course, each of us has different levels of these unwanted chemicals - but yes, even those living off the grid and eating all organic foods will have some unwanted chemicals in their bodies. Studies are finding that these chemicals have negative health effects - some effects we know about, but many, many are still unknown.
Of big concern is a pregnant woman's exposure to chemicals because they can have health effects on the developing baby, including life-long effects (e.g. neurological effects, endocrine disrupting effects, immunological effects). Yes, this is scary stuff, especially because we know so little about their effects.
A group of University of California researchers figured out a new way to measure these chemicals in the blood (it's called liquid chromatography-quadrupole time-of-flight mass spectrometry), and looked for the presence of 696 chemicals in a group of 75 pregnant women in California. They found an average of 56 chemicals in each woman (the number of chemicals ranged from 32 to 73 chemicals per woman), and also found a number of chemicals never monitored before. Yikes.
What to do? We can't totally avoid unwanted chemical exposure, but we can lower our exposure to some chemicals. Look at the last post for ideas on how to minimize exposures in our foods. Try to avoid pesticides - both in your home, yard, and in food (eat organic food as much as possible). Avoid fragrances and products containing fragrances. Avoid dryer sheets, air fresheners, and scented candles. Read labels and avoid products with fragrances, parabens, stain protectors, flame retardants, and antibacterials , anti-odor, or anti-mildew products.  Avoid non-stick or Teflon cookware. Avoid BPA and also the replacement chemicals (yes, they're as bad). Don't microwave plastic containers (glass dishes are OK). Glass & stainless steel for foods is fine. Wash hands before eating. Yes, it's a lifestyle change, but one worth doing.
From Medical Xpress: Study finds 56 suspect chemicals in average pregnant woman
Each year, tens of thousands of chemicals are manufactured in or imported into the United States—more than 30,000 pounds of industrial chemicals for every American—yet experts know very little about which chemicals may enter people's bodies, or how these substances affect human health. Now, scientists at UC San Francisco have found a way to screen people's blood for hundreds of chemicals at once, a method that will improve our ability to better assess chemical exposures in pregnant women, and to identify those exposures that may pose a health risk. 
...continue reading "Study Finds An Average of 56 Suspect Chemicals In Pregnant Women"