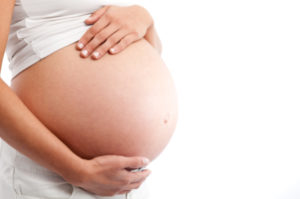 Worrisome news: having a COVID-19 infection during pregnancy may be injuring the placenta, even if the pregnant woman has no symptoms (asymptomatic) and the baby appears healthy at birth. The human placenta is the temporary organ that nourishes and maintains the developing fetus during pregnancy. It provides oxygen and nutrients to the baby, and removes waste products.
A small study by doctors at the Feinberg School of Medicine (Chicago, Illinois) examined 16 placentas after babies were born - 15 in the third trimester (all live, healthy babies), 1 in the second trimester (after the fetus died). The placentas of women who were currently infected with COVID-19 or had it earlier in the pregnancy showed abnormal or injured blood vessels, which can result in insufficient blood flow between the mother and developing baby. Two common types of injuries were abnormal blood vessels (maternal vascular malperfusion) and blood clots in the placenta (intervillous thrombi).
The study authors said that pregnant women should therefore be monitored more carefully, perhaps with non-stress tests (to see how well the placenta is delivering oxygen) or ultrasounds to measure growth. The good news is that currently the evidence does not suggest that pregnant women have more severe COVID-19 infections than non-pregnant women.
Also good news is that the 15 babies born in the third trimester appeared healthy and normal weight (only one was pre-term, but healthy), and that at birth all the babies were negative for COVID-19. Thus, they did not get the infection from their mothers during pregnancy.
Excerpts from Science Daily: Placentas from COVID-19-positive pregnant women show injury
The placentas from 16 women who tested positive for COVID-19 while pregnant showed evidence of injury, according to pathological exams completed directly following birth, reports a new Northwestern Medicine study.   ...continue reading "COVID-19 During Pregnancy"