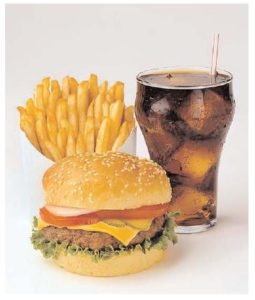 The results of a recent study may give extra motivation to those trying to cut back on the amount of fast food that they eat. The study found that consumption of fast food is linked to nonalcoholic fatty liver disease (NAFLD).
The researchers found moderate increases in liver fat in everyone consuming  20% or more of daily calories from fast food (about 1 meal a day). They also found that obese individuals or people with diabetes who consume 20% or more of their daily calories from fast food had severely elevated levels of fat in their liver.
We already know that fast foods are associated with a greater risk of diabetes and heart disease, and now NAFLD can be added. It is thought that NAFLD affects 30% of the U.S. population!
According to the US National Institute of Health: "Nonalcoholic fatty liver disease (NAFLD) is a condition in which fat builds up in your liver. Nonalcoholic fatty liver (NAFL) and nonalcoholic steatohepatitis (NASH) are types of NAFLD. If you have NASH, you have inflammation and liver damage, along with fat in your liver."
What to do about this abnormal build up of fat in the liver? The only treatment is changing your diet and losing weight. A healthy diet is one rich in fruits, vegetables, legumes, whole grains, seeds, and nuts. For example, a Mediterranean style diet.
From Science Daily: Consumption of fast food linked to liver disease
A study from Keck Medicine of USC published today in Clinical Gastroenterology and Hepatology gives people extra motivation to reduce fast-food consumption. ...continue reading "Fast Food and Liver Disease"