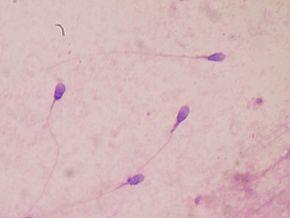 Back in 2017 the world was shocked by a major study that focused on dropping sperm counts in men living in Western countries - a drop of over 50% in 4 decades, or about 1% per year. Along with an increase in infertility. If the drop in sperm counts continues at its current pace, it ultimately means that humans soon will not be able to reproduce. Worse case scenario: extinction of humans.
Dr. Shanna Swan, who an author of the study, has a just published an excellent eye-opening book about this topic. The cause for these sperm count drops and increasing infertility are the hormone (endocrine) disrupting chemicals in everyday products all around us. In plastics, in many pesticides, in personal care products, in our foods (from the packaging)... Yes, all around us. It turns out these chemicals have all sorts of harmful health effects, not just lowering of sperm counts and increasing infertility. [see below]
Good news: we can't escape all the harmful chemicals around us, but we can really decrease our exposures and so decrease the levels of these chemicals in our bodies. And it's better for our health! For tips on ways to reduce your exposures and the levels of harmful chemicals in your body - see Avoiding Harmful Chemicals.
The highly recommended book is written by Shanna Swan, PhD and Stacey Colino: Count Down: How Our Modern World Is Threatening Sperm Counts, Altering Male and Female Reproductive Development, and Imperiling the Future of the Human Race. Scribner, 2020. With many pages of references at the end.
An interesting short interview with Dr. Shanna Swan. From The Intercept: TOXIC CHEMICALS THREATEN HUMANITY'S ABILITY TO REPRODUCE
..a book that ties industrial chemicals in everyday products to a wide range of changes taking place in recent years, including increasing numbers of babies born with smaller penises; higher rates of erectile dysfunction; declining fertility; eroding sex differences in some animal species; and potentially even behaviors that are thought of as gender-typical.
Excerpts by Shanna Swan and Stacey Colino's piece from Scientific American: Reproductive Problems in Both Men and Women Are Rising at an Alarming Rate
When you see or hear a reference to "the 1 percent," most people think of socioeconomic status—the people with the top 1 percent of wealth or income in the United States, which is how the term is commonly used in our culture.
Not us, though.  ...continue reading "A New Book Discusses Falling Sperm Counts and The Chemicals Around Us"