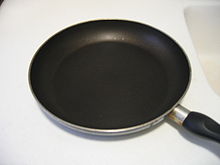 Worried about the effects of persistent pesticides, flame retardants, and the chemicals used in non-stick pans (e.g.Teflon) on human health? An interesting small study from researchers at New York University looked at whether there is a link between having higher levels of these chemicals and celiac disease (a digestive disorder in which there is an abnormal response to foods with gluten). And yes, they found one.
Certain pesticides, flame retardants (PBDEs), and nonstick chemicals (PFASs) are known as persistent organic pollutants (POPs). They are known to be endocrine disruptors (meaning they disrupt the hormonal system). The researchers think that because there is an interplay between endocrine and immune systems, then perhaps these chemicals may contribute to the development of celiac disease in people who are genetically susceptible to it.
Thirty children and young adults newly diagnosed with celiac disease were compared to 58 individuals without the disease.  Higher levels of these chemicals were found in the blood in those with celiac disease, when compared to those without celiac disease.
More reasons to avoid non-stick pots and pans, avoid flame retardants, avoid using pesticides on lawns, and to eat organically raised foods.
From Futurity: CELIAC DIAGNOSIS MORE LIKELY WITH HIGHER BLOOD LEVELS OF PESTICIDES
Children and young adults with high blood levels of pesticides—and with high levels of pesticide-related chemicals called dichlorodiphenyldichlorethylenes—were twice as likely to receive a new diagnosis of celiac disease than those without high levels, report researchers.  ...continue reading "Certain Chemicals Linked to Celiac Disease"