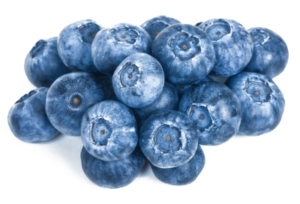 Once again a study finds that eating berries (this time blueberries) is associated with health benefits - that the blueberries improved both blood vessel functioning and blood pressure. This multi-part European study was conducted on both humans and mice. The researchers specifically looked at what component of blueberries had the beneficial effects on blood pressure and came to the conclusion that it was the anthocyanins in the blueberries.  Anthocyanins are the blue, violet, or red flavonoid pigments found in berries and other plants.
How much did the researchers find to be beneficial in the study? 2 cups or 200 g blueberries daily for one month. The study participants drank blueberry juice, but the assumption is that eating whole blueberries has the same beneficial effect.The researchers found that the lowering of blood pressure (5 mmHg) is similar to what is commonly observed with blood pressure lowering medication (e.g. ACE inhibitors) in patients.
By the way, research finds health benefits from eating a variety of berry types and richly colored fruits and vegetables (e.g. better brain functioning, lower blood pressure, lowering of cholesterol levels). Not only are the micronutrients different, but also the microbial species which we ingest (this is good!). So don't eat just one kind of berry - eat them all!
From a press release published by King's College London: The 'blue' in blueberries can help lower blood pressure  ...continue reading "Blueberries and Blood Pressure"