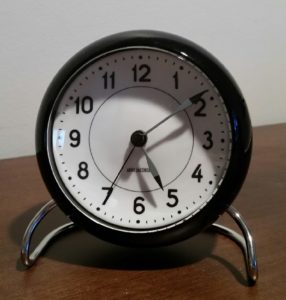 An easy-peasy way to lower your risk for type 2 diabetes may be to not eat late dinners. Research conducted in Spain found that eating a meal an hour before bedtime decreases insulin secretion, impairs and decreases glucose tolerance, and so increases type 2 diabetes risk.
Lead author Marta Garaulet, PhD said: "We found that late eating disturbed blood sugar control in the whole group." The study had 845 participants, none with diabetes, all living in Spain. Melatonin levels (which rise naturally in the 2 hours before bedtime) were involved - so researchers say don't eat a meal then. Those with a certain gene variant had more disturbed blood sugar control than those without the gene.
Bottom line: Don't eat a meal in the 2 hours before bedtime. 
From Medscape: Eating Dinner Late Ups Diabetes Risk; Melatonin Involved
Eating dinner close to bedtime when endogenous melatonin levels are high is associated with decreased insulin secretion and decreased glucose tolerance, which increase the risk of type 2 diabetes. ...continue reading "Dining Early Is Healthier Than Close to Bedtime"