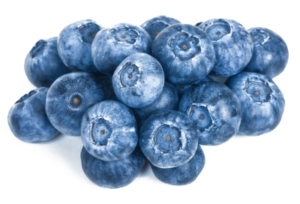 We have known for a while that frequently eating berries has health benefits. A recent study found that overweight middle-aged persons eating blueberries daily for 12 weeks resulted in both metabolic and memory improvements.
The researchers stated that the results suggest that frequently eating blueberries could be protective against cognitive decline and lower the risk of dementia later on in life.
The study involved thirty-three overweight prediabetic middle-aged adults who already felt that their memory was not as good as in years past. They were randomly assigned to either the blueberry (whole freeze-dried blueberry powder) group or the placebo group (a similar looking powder that did not contain blueberries). The blueberry powder was equivalent to 1/2 cup whole blueberries and was eaten once a day for 12 weeks. The benefits of blueberries are thought to be from micronutrients and anthocyanins, which are antioxidants.
By the way, all berries (raspberries, blackberries, strawberries, etc.) are slightly different in micronutrients and are viewed as beneficial to health and lowering the risk of chronic diseases, including the risk of dementia. As are colorful fruits and vegetables. Don't focus on just one type of berry - eat them all!
From Medical Xpress: Regular blueberry consumption may reduce risk of dementia, study finds
Researchers led by UC's Robert Krikorian, Ph.D., found that adding blueberries to the daily diets of certain middle-aged populations may lower the chances of developing late-life dementia. ...continue reading "Eating Blueberries Has Health Benefits"