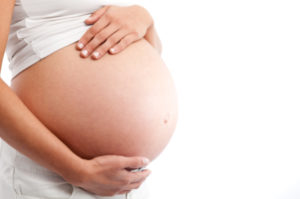 Evidence is building that caffeine should be avoided during pregnancy because it harms the developing baby. A recent study found when caffeine (coffee!) is consumed during pregnancy, then structural changes occur in the brain of the developing baby. These changes can be seen years later in brain scans, and these appear to result in behavioral changes in the children. The minimal, but noticeable behavioral changes were behavioral issues, attention difficulties, and hyperactivity.
The Univ. of Rochester School of Medicine and Dentistry researchers  found subtle changes in brain pathways ("alteration of the microstructure of critical fiber tracts") between brain regions that could be seen in the children at age 9 to 10 years. They analyzed brain scans (from MRIs) of 9157 children, of which 4,135 had mothers that reported consuming caffeine more than once a week.
Other studies find that health problems associated with caffeine (coffee) intake during pregnancy are miscarriage, stillbirth, low birth weight and/or small for gestational age, and childhood leukemia. There is a dose-response effect - the more caffeine is ingested, the more negative health effects.
Other human studies looking at this issue are observational, but negative health effects are supported by animal research going back more than four decades. Caffeine crosses the placenta and goes to the baby. Negative health effects occur because the fetus can not clear the caffeine well because it lacks an enzyme that metabolizes caffeine.
Unfortunately, medical guidelines in both the US and Europe are that moderate (up to 200 mg) ingestion of caffeine during pregnancy is OK, which means about 2 cups of regular coffee a day. Since studies show it's not OK, it's time to revise the guidelines!
From Science Daily: Brain changed by caffeine in utero
New research finds caffeine consumed during pregnancy can change important brain pathways that could lead to behavioral problems later in life. Researchers in the Del Monte Institute for Neuroscience at the University of Rochester Medical Center (URMC) analyzed thousands of brain scans of nine and ten-year-olds, and revealed changes in the brain structure in children who were exposed to caffeine in utero.  ...continue reading "Avoid Caffeine During Pregnancy"