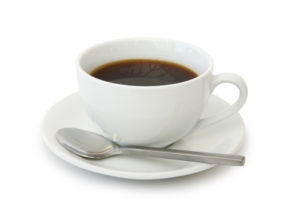 Pregnant women have been advised to keep their consumption of coffee and other caffeinated beverages (tea, sodas, cocoa, energy drinks), and chocolate containing foods to a minimum for decades. Currently the American College of Obstetrics recommends that women consume less than 200 mg of caffeine (from any source) per day during pregnancy. This is less than 2 cups of regular coffee  or 4 cups of regular black tea. But a recent  study's findings suggest that the levels should be kept much lower.
The study of 941 mother/baby pairs in Ireland found that each 100 mg increase of caffeine per day was associated with a lower birth weight, shorter length of pregnancy (gestational age), shorter birth length of the baby, and smaller head circumference of the baby at birth. The strongest associations between those who consumed the most caffeine (when compared to those who consumed the least) was with lower birth weight.
The researchers think this occurs because caffeine crosses the placenta easily, but during pregnancy there is a slowed metabolism of caffeine (so it takes longer to get it out of the body). Similar results have been found in other recent studies. [On the other hand, for not pregnant women - coffee and tea are linked to all sorts of health benefits - here, here.]
From Medical Xpress: Caffeinated beverages during pregnancy linked to lower birth weight babies
...continue reading "Keep Caffeine To A Minimum During Pregnancy"