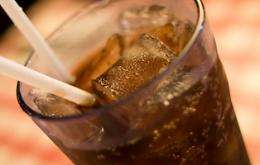 An interesting study found that high fructose corn syrup promotes the growth of intestinal tumors - in mice. The amount was fairly small - the equivalent of 12 oz of soda (with about 20 g of high fructose corn syrup) per day. The big question now: Is this also true for humans?
A number of studies find an association of soda consumption (which typically has high-fructose corn syrup in it), obesity,  and cancer (e.g. colorectal cancer) in humans, but the question remained whether this was due to obesity (obesity is linked to many types of cancer) or whether the high fructose corn syrup is directly contributing to tumor development or tumor growth. Based on the results of this study, the researchers felt that the high fructose corn syrup "enhances" or "promotes" intestinal tumor growth. Yikes.
From Science Daily: High-fructose corn syrup boosts intestinal tumor growth in mice
Does sugar directly feed cancers, boosting their growth? The answer seems to be 'Yes' at least in mice according to a study led by researchers at Baylor College of Medicine and Weill Cornell Medicine.  ...continue reading "Time To Stop Drinking Soda?"