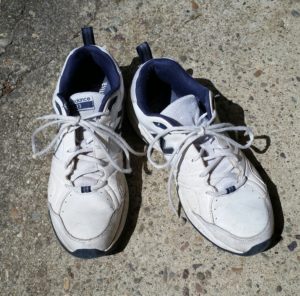 It has been known for years that wearing your shoes indoors means that everything that is on the ground outdoors will be tracked into the home. Pesticides, heavy metals, lead, animal feces, and everything else out there.
Babies crawling around the floor (and also putting things into the mouth) get an extra heavy dose of "contaminants" that were tracked in. We all absorb contaminants through our skin, ingest (the mouth), or breathe them in.
All these contaminants become part of our indoor air quality. Our indoor air is not just the outside contaminants that made their way in, but there is also shedding of skin and cloth fibers from us and pets, as well as outgassing and breakdown (the dust) of whatever is in the home. We can't get rid of all contaminants, but we can really lower our exposure to them by not wearing our shoes indoors.
Bottom line: Take your shoes off at the door.
A nice discussion of this issue is in an article written by Professors M.P. Taylor and G. Filippelli earlier this year. Some excerpts from The Conversation: Wearing shoes in the house is just plain gross. The verdict from scientists who study indoor contaminants
You probably clean your shoes if you step in something muddy or disgusting (please pick up after your dog!). But when you get home, do you always de-shoe at the door?  ...continue reading "Leave Your Shoes At The Door"