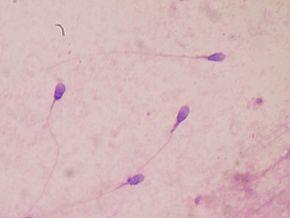 Two years ago scientists reported an alarming and steep decline in sperm counts in men from Western industrialized countries over the last 40 years. Both sperm count and sperm concentration declined 50 to 60% in this period in men in North America, Europe, Australia, and New Zealand. Especially concerning was that there was no evidence of this year by year decline leveling off.
What does this mean? As these declines continue, more and more men will have sperm counts below the point at which they can reproduce. Instead they will be infertile or "sub-fertile" (fertilization is unlikely). According to the World Health Organization (WHO), a sperm count of below 15 million per ml makes a man subfertile. However, also of concern is the threshold level associated with a "decreased monthly probability of conception", which is 40 million/ml - which means conception will take significantly longer (due to impaired ability to fertilize an egg).
A recent Univ. of Geneva study looked at semen quality of 2523 young men (aged 18 to 22 years old) who were being drafted into the military in Switzerland. They found that average sperm quality and sperm concentration of the men, who were from all regions of Switzerland, was among the lowest in Europe (along with Germany, Denmark, and Norway).
In Europe, median sperm count ranges from 41 to 67 million per milliliter (ml), depending on the country. The researchers found that the group of Swiss men had a median sperm count of 48 million per ml. And 17 percent of the men had sperm counts below 15 million per ml (thus subfertile). By the way, countries with lower sperm counts and quality, have higher rates of testicular cancer - they go hand in hand.
Also, in a quarter of the Swiss men studied, less than 40 percent of sperm cells were motile (moved normally), and 43 percent of men had less than 4 percent normally formed sperm. Overall, only 38 percent of Swiss men had healthy sperm - that is, with concentration, motility, and morphology (shape, form) that met the WHO's criteria for healthy sperm.
Why is this happening? The researchers found that of the men with very low sperm concentration, more of their mothers smoked during the pregnancy, which means there could be changes during embryonic development. Also, while this study did not discuss this, many other researchers say that sperm health is "the canary in the mine" for male health - evidence of harm to men from environmental and lifestyle influences. 
These Western developed countries are awash in chemicals and plastics, also with endocrine disruptors (hormone disruptors) in our foods, our personal care products, in products all around us - and so studies find these chemicals in all of us (in varying degrees). Same with flame retardants, pesticides, "scented" products. Exposure to all sorts of environmental pollutants - whether in air, water, soil, our food - such as high levels of aluminum. All of these can have an effect on sperm counts and reproductive health. You can't totally avoid these chemicals, but you can try to lower your amounts of exposure (some tips to lower exposures).
From Medical Xpress: Poor semen quality in Switzerland   ...continue reading "Male Fertility Is Plunging In Switzerland"