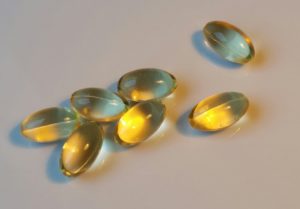 Several recent articles on Medscape (a site for medical professionals) highlight the debate over vitamin D. The question: Does daily vitamin D supplementation have positive health benefits or not? Everyone agrees that if there is an actual deficiency, then it has positive health effects. But how about the average person with levels above the deficiency level?
Numerous observational studies find that low levels of vitamin D are associated with all sorts of health problems (e.g., cancer, heart disease), but randomly controlled trials (RCT) where people are randomly assigned to different groups with no one knowing what they are getting - just aren't finding health benefits. The strongest evidence so far has been for vitamin D supplementation resulting in lower incidence of upper respiratory illnesses.
What is going on? Some suggest that low vitamin D levels are a marker for ill health (the illness reduces the vitamin D levels), and that vitamin D levels go down when there is chronic inflammation. It could also be a proxy for sun exposure (the more sunlight, the higher the vitamin D levels). Note that sunlight may have additional benefits compared to just vitamin D supplementation (e.g, blue light is immune boosting).
John M. Mandrola, MD writes for Medscape, and his articles tend to be thought-provoking. Some excerpts of a Commentary by Dr. John Mandrola from Medscape: Why Is Vitamin D Hype So Impervious to Evidence?
The vitamin D story exudes teaching points: it offers a master class in critical appraisal, connecting the concepts of biologic plausibility, flawed surrogate markers, confounded observational studies, and slews of randomized controlled trials (RCTs) showing no benefits on health outcomes.
Yet despite the utter lack of benefit seen in trials, the hype continues....
My questions are simple: Why doesn't the evidence persuade people? How many nonsignificant trials do we need before researchers stop studying vitamin D, doctors stop (routinely) measuring levels, and patients stop wasting money on the unhelpful supplement? What are the implications for this lack of persuasion?  ...continue reading "Some Large Studies Find No Benefit From Vitamin D Supplements"