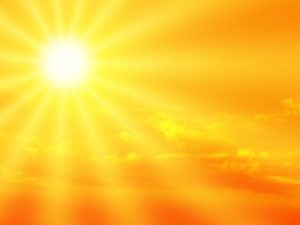 Another study found that increased sun exposure in children and young adults is linked to lower levels of multiple sclerosis. This was the main finding of a study conducted at multiple centers in the United States by a team of American and Australian researchers.
The researchers in the study stated that not only does sunlight boost vitamin D levels, it also "...stimulates immune cells in the skin that have a protective role in diseases such as multiple sclerosis." In addition, they found an association with the intensity of sunlight and estimated that residents of Florida would be 21 percent less likely than residents of New York to have multiple sclerosis. Sun exposure appears to be dose dependent - the longer the exposure, the lower the risk of multiple sclerosis.
Earlier studies also found immune boosting properties of sunlight. Sunlight has low levels of "blue light" which energizes T cells that play a central role in human immunity. T cells are a type of white blood cell, are part of the immune system, and help protect the body from infection and cellular abnormalities (cancer). 
Bottom line: In this study getting at least 30 minutes (up to 1 hour) of sunshine daily, especially in the summer, seems to be key in terms of protective effects.
From Medical Xpress: Sunshine may shield children, young adults from MS
Living in sunny locations and spending time outdoors may raise the risk for skin cancer, but a new study led by UC San Francisco and the Australian National University shows that in children and young adults, sun exposure may protect against multiple sclerosis. The study follows previous work by other researchers that has demonstrated an association between increased ultraviolet exposure in childhood and lower odds of adult MS.  ...continue reading "Sunshine and Multiple Sclerosis in Children and Young Adults"