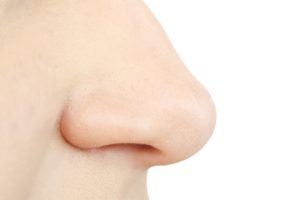 I spent time this past week searching the medical literature (US National Library of Medicine - Medline/PubMed) for the latest in sinusitis research. I wish I could tell you that amazing research has been happening recently, especially with the sinus microbiome (which could mean treating sinusitis with microbes), but I was disappointed. Really disappointed.
I did four searches: one for "sinusitis" (looked at 600+ studies dating back to summer 2013), then "chronic sinusitis" (going back to fall 2012), then "sinusitis, probiotics", and finally "sinusitis, microbiome". The "sinusitis, probiotics" search turned up 10 studies dating back to 2002. The "sinusitis, microbiome" search turned up a grand total of 13 studies, with the oldest dating back to 2004. Of course the sinus microbiome research by Abreu et al from September 2012  discussing Lactobacillus sakei and which I based my personal (and successful) kimchi sinusitis treatment was on the list (see my Dec. 5 post for a discussion of their research). But none of the other studies looked at Lactobacillus sakei (which is in kimchi).
Some of the findings among the many chronic sinusitis studies: microbial diversity is lower in antibiotic treated chronic sinusitis sufferers (than in healthy controls) and the microbial communities more uneven (meaning some microbes dominated over others), and greater Staphylococcus aureus populations among those with chronic sinusitis. After antibiotic treatment patients typically became colonized by microbes that are less susceptible to the prescribed antibiotics. One study found that Staphylococcus epidermidis (SE) may have some effectiveness against Staphylococcus aureus (SA) in the sinusitis microbiome in mice. Lactobacillus rhamnosus was not found to be effective against sinusitis. A number of studies reported biofilms in the sinuses which are highly resistant to medicines. Some studies found that smoking or exposure to second-hand smoke is linked to chronic sinusitis. (June 2016 UPDATE: I should have said that Lactobacillus rhamnosus (R0011 strain) was not effective against sinusitis when taken orally (a tablet) twice a day for 4 weeks in the study. There have been no further studies since then looking at L. rhamnosus for sinusitis treatment. It is unknown whether spraying or smearing/dabbing L. rhamnosus directly into the nostrils would have a positive effect)
Everyone agreed that state of the art genetic analyses found many more microbial species than older methods (the least effective was the traditional culture method). Several studies suggested that perhaps chronic sinusitis is due to immunological defects and one suggested that it was due to "immune hyperresponsiveness" to organisms in the sinuses. Surprisingly, some studies reported that there are more microbes or microbial species in chronic sinusitis patients than in control patients and that Staphylococcus aureus may be dominant (NOTE: These results may be due to not having been done with state of the art genetic analyses which would have picked up more microbial diversity. Another issue is where in the respiratory tract the samples were taken from, because it seems that the different areas have different microbial communities).
There was frequent mention that chronic sinusitis affects millions of people each year in the US, that little is known about its exact cause, and that there is controversy over appropriate treatment. Originally doctors thought that healthy sinuses were sterile, and it has taken a while to realize that is untrue. It is clear that researchers are only now trying to discover what microbial communities live in healthy individuals compared to those with chronic sinusitis.
But it appeared to me that the majority of the studies from the last 2 years indicated that treatment of chronic sinusitis is still: first try antibiotics, then antibiotics plus inhaled corticosteroids and perhaps nasal saline irrigation, then followed by endoscopic sinus surgery (or sometimes balloon dilation), then perhaps steroid drip implants (steroid-eluting sinus implants), and then there may be revision surgeries.
So I'm sticking with my easy-to-do, inexpensive, and fantastically successful kimchi (Lactobacillus sakei) sinusitis treatment. Of course! (see my Dec. 6, 2013 and Feb. 21, 2014 posts or click on the Sinusitis Treatment link for further information).