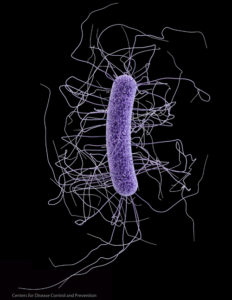 More research that supports that both more variety (diversity) of microbes and the actual mix of types of microbes are involved in a healthy gut microbiome. Healthy communities don't have just one important species of bacteria, but a mix of bacteria, and some mixes of bacteria work better than others in preventing infections. One can say that some mixes of bacteria are "protective" against infections. And once again, antibiotics screw up the microbial communities and cause imbalances. This study was done in mice looking at gut bacteria and Clostridium difficile (which kills about 14,000 Americans annually), but they are now continuing this research in humans. From Medical Xpress:
It takes a village... to ward off dangerous infections? New microbiome research suggests so
Like a collection of ragtag villagers fighting off an invading army, the mix of bacteria that live in our guts may band together to keep dangerous infections from taking hold, new research suggests. But some "villages" may succeed better than others at holding off the invasion, because of key differences in the kinds of bacteria that make up their feisty population, the team from the University of Michigan Medical School reports. The researchers even show it may be possible to predict which collections of gut bacteria will resist invasion the best—opening the door to new ways of aiding them in their fight.
Working in mice, the team studied one of the most dangerous gut infections around: Clostridium difficile, which kills more than 14,000 Americans a year. C-diff also sickens hundreds of thousands more, mostly hospital patients whose natural collection of gut bacteria—their gut microbiome—has been disturbed by antibiotics prescribed to protect them from other infections.
In a new paper published in the journal mBIO, the team reports the results from tests of seven groups of mice that were given different antibiotics, then were exposed to C-diff spores. The scientists used advanced genetic analysis to determine which bacteria survived the antibiotic challenge, and looked at what factors made it most likely that C-diff would succeed in its invasion.The team also developed a computer model that accurately predicted C-diff's success rate for other mice in the study, based solely on knowing what bacteria the mice had in their natural gut 'village'. The model succeeded 90 percent of the time.
"We know that individual humans all have different collections of gut bacteria, that your internal 'village' is different from mine. But research has mostly focused on studying one collection at a time," says Patrick D. Schloss, Ph.D., the U-M associate professor of microbiology and immunology who led the team. "By looking at many types of microbiomes at once, we were able to tease out a subset of bacterial communities that appear to resist C-diff colonization, and predict to what extent they could prevent an infection."
Schloss, who is a key member of the Medical School's Host Microbiome Initiative, notes that no one species of bacteria by itself protected against colonization. It was the mix that did it. And no one particular mix of specific bacteria was spectacularly better than others - several of the diverse "villages" resisted invasion.
Resistance was associated with members of the Porphyromonadaceae, Lachnospiraceae, Lactobacillus, Alistipes, and Turicibacter families of bacteria. Susceptibility to C. difficile, on the other hand, was associated with loss of these protective species and a rise in Escherichia or Streptococcus bacteria. "It's the community that matters, and antibiotics screw it up," Schloss explains. Being able to use advance genetic tools to detect the DNA of dozens of different bacteria species, and tell how common or rare each one is in a particular gut, made this research possible.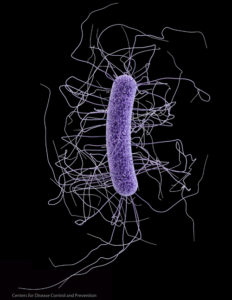 A Clostridium difficile cell.                                                     Credit: Centers for Disease Control and Prevention