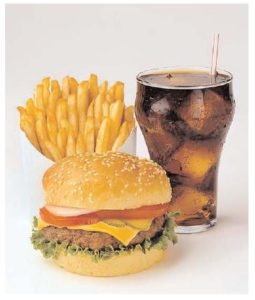 Say it over and over to yourself: Don't eat highly processed foods, don't eat foods with additives (e.g., emulsifiers, colors), don't eat foods/beverages with high fructose corn syrup, don't eat lots of pre-packaged foods or fast foods.
Why? This kind of high fat, low-fiber Western diet (which most of us eat), is linked to lots of health problems  and also an unhealthy gut microbiome. Cancer, diabetes, heart disease!
Instead, eat a Mediterranean style diet - a diet rich in fruits and vegetables, whole grains, seeds, nuts, whole grains, legumes. Also, lots of olive oil. This is a high fiber diet linked to good health and a healthy gut microbiome.
Research finds harms (e.g., harmful alterations of the gut microbiome or intestinal lining, cancer) from ingredients added to highly processed foods, such as emulsifiers, carrageenan, artificial sweeteners, maltodextrin, carboxymethyl cellulose, polysorbate-80, artificial colors and flavors, high fructose corn syrup, etc. Bottom line: Try to avoid any ingredient that's not normally in your kitchen! Read ingredient lists on labels.
Excerpts from a commentary (transcript of podcast) by Dr. D. Johnson from Medscape: Forget Fad Diets, Here's the One You Need
Hello. I'm Dr David Johnson, professor of medicine and chief of gastroenterology at Eastern Virginia Medical School in Norfolk, Virginia. Welcome back to another GI Common Concerns.
All of us routinely see diet recommendations on the Internet — like TikTok — or in new books. Every possible diet seems to receive this promotional push, although the evidence behind them is often lacking.
So what do we mean when we talk about a "healthy diet"? ...continue reading "Doctors Recommend Mediterranean Style Diet For Health"