More news about microplastics (tiny plastic particles) and where they are showing up in humans. Yesterday's post was about microplastics showing up in human blood, and today's post is about a study finding microplastics deep in the lungs of living people.
Yes, not only do we ingest microplastics in our food and water (especially from water bottles), but we also inhale microplastics in the air. This is worrisome because microplastics accumulate in the body, and at this point long term effects are unknown.
Our bodies are not filtering and getting rid of many of the plastic microparticles that we ingest or breathe in (yes, some also get excreted in our feces). No one thinks this is good, and some early study results are showing harm. Some concerns include inflammation, increased risk of cancer, alterations of the microbiome, endocrine disrupting effects from the chemicals in the microplastics.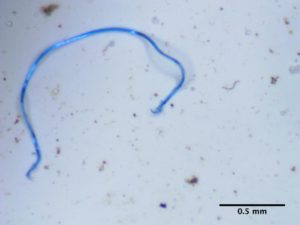 The 13 people in the study were undergoing surgery (that's a good time to take samples of lung tissue) in the UK. Samples from 11 people found microplastics, with the most common being polypropylene (in plastic packaging and pipes) and PET (in bottles). The images of microparticles in the lung tissue samples are actually horrifying because it is clear they do not belong there!
By the way, some earlier studies also found microplastics in human lungs. Microplastics are a result of plastic breaking down or shedding tiny particles.
Excerpts from The Guardian: Microplastics found deep in lungs of living people for first time
Microplastic pollution has been discovered lodged deep in the lungs of living people for the first time. The particles were found in almost all the samples analysed.  ...continue reading "Microplastics Found Deep In the Lungs of People"