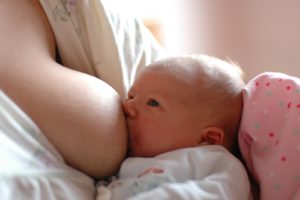 Researchers have known for a while that human breast milk contains hundreds of species of bacteria that a baby ingests while feeding. This is good! The bacteria is seeding the baby's gut microbiome (microbial community). A recent study of breast milk from different continents found that breast milk from healthy mothers also contains species of fungi - which is the breast milk mycobiome. What was noteworthy was that some  types of fungi in breast milk were found among breast milk samples from all locations (a fungi "core group"), while other types of fungi varied among breast milk from the different locations and even how the baby was delivered (vaginal or C-section birth).
After analyzing the 80 samples of breast milk (20 from each country: Spain, Finland, South Africa, China) it was found that some fungi were the same in breast milk from the different locations: Malassezia, Davidiella, Sistotrema, and Penicillium, while others were different. Fungi from the genus Cryptococcus were higher in breast milk from women who delivered vaginally (as compared to those who had a C-section).  [Note: Genus ranks above species, but below family, and the written name is capitalized.]
This study confirms the importance of breast milk as a source of microbes (along with many nutrients and protective compounds) to the infant and infant gut. From Science Daily:
Breast milk microbiome contains yeast and fungi: Do these benefit the infant?  ...continue reading "It Is Normal For Fungi To Be In Breast Milk"