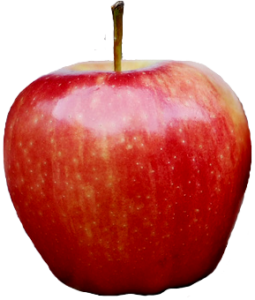 New research once again confirms that raw fruits and vegetables result in a person ingesting lots of microbes. Millions of bacteria. Which is considered beneficial for our gut microbiome! What's interesting in the latest study looking at bacteria in both conventionally and organically grown apples is that organic apples are a better source of bacteria - that their bacteria are more diverse, distinct, and balanced (when compared to conventionally grown apples).
The Austrian researchers (Wassermann et al) wrote in the Frontiers In Microbiology: "Our results suggest that we consume about 100 million bacterial cells with one apple. Although this amount was the same, the bacterial composition was significantly different in conventionally and organically produced apples."
Interestingly, there were a lot of beneficial Lactobacillus species in the organic apples, but not conventionally grown ones. The researchers thought that the diverse microbiome of organic apples probably limits or hampers harmful microbes (human pathogens). The researchers also wrote: "The described microbial patterns in organic apples resemble the impact of apple polyphenols on human health, which have not only been shown to alleviate allergic symptoms (Zuercher et al., 2010), but also to promote growth of Lactobacillus and Bifidobacterium in the human gut and to reduce abundance of food-borne pathogens."
Another bonus of eating organic apples is that it means avoiding pesticides that are routinely sprayed on conventional fruit. So eat away! Microbes, fiber, and nutrients all in one small fruit!
Fun fact: The researchers write that apples are the most consumed fruit world-wide. Excerpts from Science Daily: An apple carries about 100 million bacteria -- good luck washing them off  ...continue reading "Excellent Reason To Eat Apples: The Bacteria"