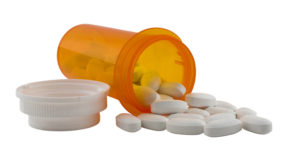 Many, many people wind up taking numerous courses of antibiotics at some points in life. Think of recurrent sinus infections or urinary tract infections or other infections. Or some conditions (e.g. dental or skin conditions) are treated with really long courses of antibiotics  New research (from 36,429 women participating in the long-running Nurses' Health Study)  found that women who take antibiotics over a long period of time during middle-age (40 to 59 years old), but even more so in late adulthood (60 years and over), are at increased risk of heart attack or stroke within the next 8 years.
How increased a risk for cardiovascular diseas? 28% or higher risk (compared to those who didn't take antibiotics)! But looking at the actual numbers it means: Among women who take antibiotics for two months or more in late adulthood, six women per 1,000 would develop a cardiovascular disease, compared to three per 1,000 among women who had not taken antibiotics.
Eight years was the length of the study, so it is unknown if the increased risk persists longer. The authors give a number of possible reasons for these results, but think it might be because antibiotic use results in gut microbial alterations. And the longer the antibiotic use, the more persistent the gut microbiome (microbial community) alterations. Other research studies supports this link (antibiotic use - gut microbe disruptions - increased cardiovascular disease). Another reason to eat in as healthy a manner as possible to feed beneficial gut microbes: a diet rich in fruits, vegetables, whole grains, seeds, and nuts.
From Medical Xpress: Antibiotic use linked to greater risk of heart attack and stroke in women
Women who take antibiotics over a long period of time are at increased risk of heart attack or stroke, according to research carried out in nearly 36,500 women. The study, published in the European Heart Journal today, found that women aged 60 or older who took antibiotics for two months or more had the greatest risk of cardiovascular disease, but long duration of antibiotic use was also associated with an increased risk if taken during middle age (aged 40-59). The researchers could find no increased risk from antibiotic use by younger adults aged between 20-39.  ...continue reading "Link Between Antibiotics, Heart Attacks, and Stroke Risk In Older Women"