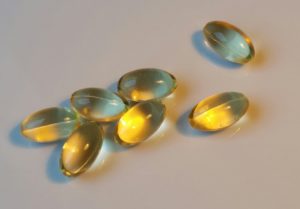 Several studies are now suggesting that low vitamin D levels are linked to increased risk of getting COVID-19. And if you get COVID-19, low vitamin D levels are linked to a higher risk of developing serious symptoms requiring admission to intensive care,  and also not surviving. These studies are observational and don't prove that vitamin D levels are the cause, but a number of studies from countries worldwide and several lines of research are suggesting the same thing.
The best source of vitamin D is sunlight, but if taking supplements - then take vitamin D3. Researchers, doctors, and medical organizations vary in their recommended dosages, but many (such as Mayo Clinic) suggest 1000 to 2000 IU per day. The minimum daily requirement is 600 IU.
Some studies also suggest that having adequate magnesium is needed for vitamin D to be metabolized well. Good food sources of magnesium are nuts, seeds (especially pumpkin seeds), peanut butter, whole grains, beans, leafy vegetables, some fatty fish (halibut, salmon, mackerel), milk, yogurt, dark chocolate, legumes (beans), quinoa, tofu, and bananas. Daily magnesium requirements are 420 mg for men, 320 mg for women. Food is generally considered a better source than supplements.
However, some researchers point out that having a disease (e.g. diabetes) or chronic inflammation results in lowering of vitamin D levels (and not that low vitamin D levels causes disease). We need good double-blind studies (people randomly assigned to groups, and no one knows who is getting what) to understand if it really is vitamin D that's causing beneficial health effects.
Excerpts from Medscape: Low Vitamin D in COVID-19 Predicts ICU Admission, Poor Survival
Having low serum vitamin D levels was an independent risk factor for having symptomatic COVID-19 with respiratory distress requiring admission to intensive care — as opposed to having mild COVID-19 — and for not surviving, in a new study from Italy. ...continue reading "Vitamin D and COVID-19"