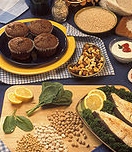 The results of a recent study by Vanderbilt University may help explain why some people have difficulty raising their low vitamin D levels - it may be that their magnesium levels are low. It appears that magnesium may regulate vitamin D levels - when vitamin D levels are low, magnesium supplementation raises vitamin D levels, and when vitamin D levels are high, magnesium supplementation lowers them to a normal level.
What are good food sources of magnesium? Magnesium is found in many plant and animal foods and beverages. Good sources of magnesium include green leafy greens, legumes (beans), whole grains, nuts, dark chocolate, and fatty fish such as salmon. Foods containing dietary fiber generally provide magnesium. By the way, dietary surveys of people in the United States consistently show that intakes of magnesium are lower than recommended amounts. From Medical Xpress:
Study shows magnesium optimizes vitamin D status
A randomized trial by Vanderbilt-Ingram Cancer Center researchers indicates that magnesium optimizes vitamin D status, raising it in people with deficient levels and lowering it in people with high levels. 
...continue reading "Magnesium Regulates Vitamin D Levels In the Body?"