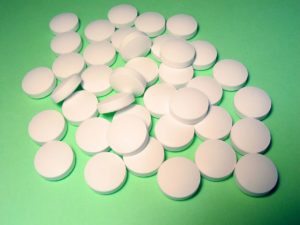 Eat real foods, not supplements. Study after study has found beneficial health effects from eating real foods, but not from taking supplements. Now another large study found similar effects - eating real foods was linked to a lower risk of death for any reason (all cause mortality) and death from heart disease (cardiovascular), which was not found with supplements. The only dietary supplement that was associated with a lower risk of death and cancer was lycopene.
In fact, the Tufts University researchers also found that excess intake of calcium from supplements (exceeding 1,000 mg/day) was associated with a 62% increased risk for dying from cancer, but this was not found with foods. And even in persons with a low intake of nutrients from foods, the use of dietary supplements had no effect on the risk of death.The study conclusions were that: "Use of dietary supplements is not associated with mortality benefits among U.S. adults."
From Medical Xpress: Nutrients from food, not supplements, linked to lower risks of death, cancer
...continue reading "Getting Nutrients From Food (But Not Supplements) Linked to Lower Risk of Death"