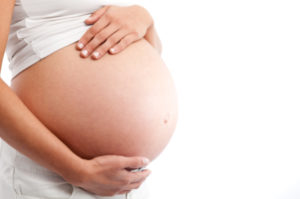 When COVID-19 vaccines first became available to the general public in 2021, women were concerned over whether it was safe to get vaccinated during pregnancy. The answer (from medical studies) is yes, the vaccines are safe and beneficial for both the mother and baby. This is great news!
Also, a recent study found that when women get a mRNA vaccine (either Pfizer or Moderna) during pregnancy, they pass high levels of antibodies to their babies. This means 100% of the babies had protective antibodies to COVID-19 when they were born. The New York University researchers found the highest level of antibodies in the infants when the mothers received the vaccine in the second half of pregnancy.
Current CDC (Centers for Disease Control and Prevention) guidelines recommend that pregnant and breastfeeding women get the COVID-19 vaccine. This is because getting COVID-19 during pregnancy can result in more severe disease, higher risk of preterm birth and  pregnancy outcomes.
BOTTOM LINE: Getting the COVID-19 vaccine during pregnancy protects both the mother and baby. (By the way, studies also find that nursing transfers antibodies to the baby in the breast milk, but it is still unclear if the levels are high enough to fully protect the baby from COVID-19).
From Science Daily: Pregnant women who receive COVID-19 vaccination pass protection from the virus to their newborns
Women who receive the mRNA COVID-19 vaccine during pregnancy pass high levels of antibodies to their babies, a new study finds.  ...continue reading "The COVID-19 Vaccine During Pregnancy Protects Both Mother and Baby"