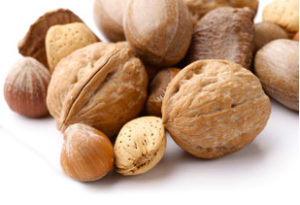 Nice summary article about the known benefits of nuts and seeds, and the nutrients they contain. Bottom line: all nuts and seeds are beneficial to health. It's best to eat a variety of nuts, and eat some nuts daily or at least a few times a week. A typical serving is 1/4 cup or small handful of nuts. Go to the article for the complete nut and seed list and a nut and seed nutrient chart. From Today's Dietician:
Nuts and seeds have been part of the human diet since Paleolithic times. A few nuts, such as almonds and walnuts, and seeds, namely flax and chia, get most of the glory, but the fact is each nut and seed brings something beneficial to the table. While exact nutrient compositions vary, nuts and seeds are rich sources of heart-healthy fats, fiber, plant protein, essential vitamins and minerals, and other bioactive compounds, including an array of phytochemicals that appear to have antioxidant and anti-inflammatory properties.
A wealth of data from prospective observational studies and clinical trials suggest that tree nut consumption reduces the risk of several chronic diseases, including cardiovascular disease (CVD), type 2 diabetes, and some forms of cancer. Moreover, there may be benefits for cognitive health. Adding support to these findings is research suggesting that incorporating tree nuts in the diet lowers the risk of conditions that contribute to disease, such as hypertension, high cholesterol, insulin resistance, abdominal obesity, endothelial dysfunction, oxidative stress, and inflammation. Various components of nuts, such as heart-healthy monounsaturated and polyunsaturated fats, plant-based protein, fiber, vitamins, minerals, and phytochemicals may work together to offer protection against oxidation, inflammation, cancer, and CVD.
Recent findings from the PREDIMED trial suggest that a Mediterranean diet that includes one serving of nuts per day protects against heart attack, stroke, or death from other cardiovascular causes in people at high risk due to type 2 diabetes or metabolic syndrome. PREDIMED data also suggest that eating more than three servings of nuts per week reduces risk of death from all causes, especially if also following a Mediterranean diet. Subjects who frequently consumed both total nuts and walnuts had a lower rate of death from cancer....While the number of nuts per serving varies by type, a typical serving is 1 oz or about 1/4 cup or a small handful (palm of the hand only)....
• Almonds are high in monounsaturated fats, which may explain their association with lower LDL cholesterol levels and reduced heart disease risk. The antioxidant function of the vitamin E (37% DV in 1 oz) in almonds along with their magnesium and potassium also may play a role in cardiovascular health. One study found that almonds may reduce LDL as much as statins.
• Brazil and cashew nuts: Technically a seed, 1 oz of Brazil nuts contains a whopping 767% DV for selenium. That's over the Tolerable Upper Intake Level of 400 mcg. But eating two Brazil nuts per day has been shown to be an effective way to increase blood levels of this antioxidant mineral healthfully. Cashews are lower in fat than most nuts and contain anacardic acid, which may improve insulin sensitivity and help prevent chronic inflammation.
• Pecans contain multiple forms of vitamin E and are especially rich in gamma-tocopherol, which has been shown to inhibit oxidation of LDL cholesterol. Oxidized LDL contributes to inflammation in the arteries and is a risk factor for CVD. Pecans also have the highest polyphenol and flavonoid content of the tree nuts.
• Pistachios: Two studies have shown that eating in-shell pistachios enhances feelings of fullness and satisfaction while reducing caloric intake. When eating in-shell pistachios, study subjects consumed about 40% fewer calories compared with pistachio kernels. Pistachios have the second highest polyphenol and flavonoid content of the tree nuts. 
• Walnuts are another excellent source of plant-based omega-3 fatty acids. Walnuts also boast the highest antioxidant content of the tree nuts, followed by pecans and cashew nuts. This makes walnuts one of the best nuts for anti-inflammatory benefits. Like pecans, walnuts are unusually rich in the gamma-tocopherol form of vitamin E. ... Walnut consumption among NHANES subjects is positively associated with cognitive function in both younger and older adults. They're a natural source of melatonin, which is critical in the regulation of sleep, circadian (daily) rhythms, and may play a role in walnuts' anticancer benefits.