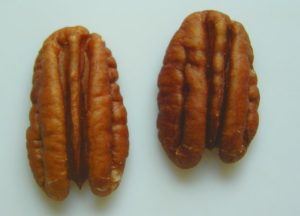 Over the years many studies have found that eating nuts is good for health and good for the gut microbiome. Now, a study that looked at the effect of adding pecans to the daily diet can be added to the list.
The Univ. of Georgia researchers found that adding about 1/4 cup (68 grams) pecans to the daily diet for 8 weeks improved cholesterol levels. A conclusion is that pecans can be viewed as good for the heart or "cardioprotective".
In the study they randomly assigned 52 adults who were at risk for heart disease (they were overweight or had hypercholesterolemia) to 1 of 3 groups, including a control group with no pecan intake. As one of the researchers (Dr. Cooper) said: "We had some people who actually went from having high cholesterol at the start of the study to no longer being in that category after the intervention.
After 8 weeks of eating 1/4 cup pecans daily, there were lower levels of fasting total cholesterol, LDL cholesterol, triglycerides, TC/HDL cholesterol ratio, non-HDL cholesterol, and apolipoprotein B in the blood There were no changes in the control (no pecan) group.
By the way, do you remember years ago when doctors cautioned people about eating nuts?  That they were very high calorie and should be avoided? Hah! ... The view nowadays: Pecans are high in healthy fatty acids and fiber, both of which are linked to lower cholesterol. Eating nuts frequently also reduces the risk of several chronic diseases, including heart disease, type 2 diabetes, some cancers, and are beneficial for cognitive health.
From Science Daily: Pecan-enriched diet shown to reduce cholesterol
While the proper pronunciation of pecan remains a subject of debate, University of Georgia researchers have shown the tree nut can dramatically improve a person's cholesterol levels.  ...continue reading "Pecans Are A Healthy Addition to the Diet"