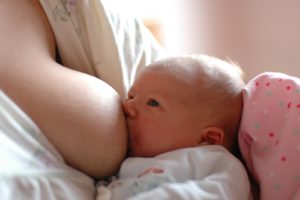 For years it has been known that breast milk transfers hundreds of microbial species to the baby -  which is very important and beneficial for the baby's microbiome (community of fungi, viruses, bacteria, and other microbes) and health. A recent study found that the bacteria in breast milk varies over time, which is a good reason to breastfeed for at least 6 months - the baby ingests all these beneficial species in the breast milk.
Breast milk samples were collected from 76 breastfeeding (lactating) mothers living in 8 villages in the remote Western Highlands of Guatemala during "early lactation" (6–46 days postpartum) or after months of breastfeeding or "late lactation" (109 to184 days postpartum). Modern technologies (genetic sequencing) were used to analyze the breast milk.
The researchers found a bacterial or microbiome shift from Staphylococcus and several Streptococcus species in early lactation to Sphingobium and Pseudomonas species in late lactation, along with other bacterial shifts. The changing bacterial species have different roles in the body. There were even species never before reported in breast milk, such as: Janthinobacterium agaricidamnosum, Novosphingobium clariflavumm, Ottowia beijingensis, and Flavobacterium cucumis.
Of course much is still unknown about the breastmilk microbiome, and even what is a "core" breast milk microbiome - that is, what species are the core species in all breast milk. But it's clear what the baby gets from the breast milk changes over time.  It's still early days in this research!
Note that all these hundreds of species are not those found in probiotic supplements or formula - a baby must breastfeed to get them. Unfortunately, it is estimated that only 26% of North American mothers breastfeed their babies for at least 6 months (Unicef data).
From Futurity: Breast Milk Offers Different Bacteria Over Time
This bacterial cocktail could act like a daily booster shot for infant immunity and metabolism. ...continue reading "The Bacteria In Breast Milk Change Over Time"