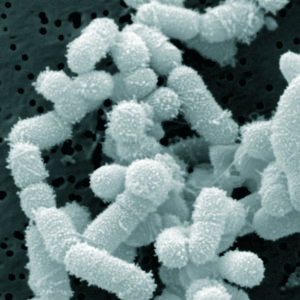 People ask me: what's going on with research in the treatment of sinusitis with probiotics? Well, the answer is that things are moving along slowly - very slowly, but there are good signs.
Earlier this year an interesting article by researcher Anders U. Cervin at the University of Queensland (Australia) was published that specifically talked about "topical probiotics" as a potential treatment for chronic sinusitis. By this he means that probiotics (beneficial bacteria) could be directly applied to the nasal passages in the nose, such as a nasal spray. And he discussed how the prevailing view nowadays, based on scientific evidence, is that in sinusitis there is an "imbalance of the sinus microbiome" - the community of microbes living in the sinuses. Yes!!!
Cervin mentioned all sorts of research showing beneficial effects of using different strains of probiotics for various illnesses, mentioned the Abreu et al study (which is the reason I focused on Lactobacillus sakei as a sinusitis treatment, and which works successfully for many people), but.... nowhere did he mention Lactobacillus sakei by name. What??? There are already excellent L. sakei probiotics out there for chronic sinusitis treatment such as Lanto Sinus.
Cervin discusses how studies are needed to test nasal sprays for the treatment of sinusitis, and made a lot of good points. He looked at studies already done, wondered what bacterial strains might be beneficial, but obviously didn't read the Abreu et al study carefully to see that L. sakei might be a good candidate to test.
And Cervin didn't do an internet search to see what probiotics people are using already as a successful treatment for sinusitis (see Sinusitis Treatment Summary page). He did mention that the only good trial using nasal spray probiotics in humans with sinusitis found no effect - because they tested the wrong Lactobacillus strains - they were honeybee strains, and not ones found in humans.
Eh... So once again I'm heartened by the focus on the microbial community in sinusitis, and heartened that he said there it was time to get out of the laboratory and start testing probiotics as treatments on people. But I'm dismayed that the focus is so narrow that he's missing what is in front of him - what is already out there. He also missed that a "snot transplant" study is now going on in Europe, which is sure to have interesting results.
By the way, some of the questions the article raises are ones which, based on the experiences of myself and others over the past 5 years, we can already answer: living bacteria as a treatment are better than dead bacteria (using dead bacteria doesn't work), nasal treatments work but just swallowing a probiotic pill doesn't, Lactobacillus sakei works as a treatment for many, the L. sakei bacteria reduces inflammation in the nasal passages, the probiotic can be used in place of an antibiotic, and only treat when needed and not continuously (continuously treating can also result in an imbalance in the sinus microbiome). [See post The Best Probiotic For Sinus Infections where these issues are discussed and the best L. sakei products.] ...continue reading "Researcher Sees Potential for Sinusitis Nasal Probiotics"