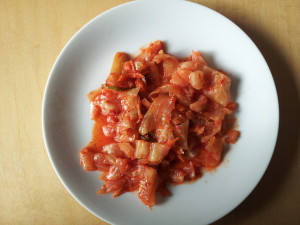 Over the years I've received many questions about vegan versus kimchi that contains seafood. Are the microbes in the kimchi the same?
One reason this is an important question is because at certain stages of kimchi fermentation the beneficial bacteria Lactobacillus sakei (which treat sinusitis in many people) appears for a time. And during that time when L.sakei is present, dabbing a little kimchi juice in the nostrils helps and treats many individuals with sinusitis. Amazing, yes?
Many people prefer to treat sinusitis with vegan kimchi - which is also my personal preference. I don't want to worry about what is in the seafood used in kimchi. Therefore, it's vegan kimchi for me.
Earlier studies have suggested that even though kimchi is made with cabbage, the L. sakei grows from the surface of raw garlic used in making  the kimchi. From the M.A. Zabat et al (2018) study:
"Because kimchi is made without the use of a starter culture, the raw ingredients play a key role in establishing the bacterial community that is responsible for fermenting kimchi (Jung et al., 2011; Lee et al., 2015)".
"Large amounts of garlic are associated with more kimchi-associated LAB [lactic acid bacteria] in the final product (Lee et al., 2015)." [Note: L. sakei is one of the lactic acid bacteria in kimchi]
This is why the 2018 study, which I just read, is so interesting. The researchers found that both vegan (no seafood)and kimchi made with seafood (e.g., fish sauce) contain the same microbes after fermentation. They may have started out with different populations of microbes, but during fermentation the microbes become similar.
"We found that, despite initial differences in microbial composition between vegan and non-vegan kimchi, there was no notable difference in the final products. Ultimately, the microbial community of both vegan and non-vegan kimchi is dominated by Lactobacillaceae and Leuconostocaceae, and lacks the Enterobacteriaceae found in the fish sauce or miso paste."
Well... that's a relief. What kimchi you choose to eat and use as a sinusitis treatment is personal preference. It's all good. And yes, fermented foods such as kimchi are great for the gut microbiome. They increase gut microbial diversity (good!) and reduce inflammation.
From Physics News: Vegan and traditional kimchi have same microbes, study finds
Good news, vegans: A new study finds that kimchi made without fish products has the same type of bacteria as more traditionally made kimchi. That finding suggests that any "probiotic" benefits associated with traditional kimchi could be present in vegan versions as well. ...continue reading "Kimchi Made With Seafood and Vegan Kimchi Contain the Same Microbes"