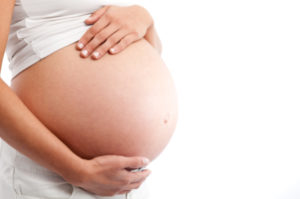 It absolutely makes sense that a good diet before and during pregnancy is associated with better pregnancy outcomes, including the risk for miscarriage.
Researchers at the University of Birmingham reviewed 20 studies (for a total of 63,838 women) and found that a good diet with healthy foods (both preconception and during pregnancy) is linked to a lower chance of miscarriage. On the other hand, a diet high in processed foods was associated with a doubling of miscarriage risk. Interestingly, higher intake of fried foods and a lower intake of chocolate is also associated with higher miscarriage odds.
What is a "good diet" linked to lower risk of miscarriage? One that is rich in fruits, vegetables, dairy, eggs, and seafood. A high intake of fruits was linked to 61% reduction of miscarriage risk, high intake of vegetables had a 41% reduction, dairy was linked to a 37% reduction, and consumption of eggs had a 19% reduction. Seafood (fish) had a 19% reduction.
Hmmm.... overall the results sound like Mediterranean-style or healthy Nordic foods diets are beneficial. By the way, the researchers were unable to draw any conclusions regarding meat, red meat, white meat, fat, and oil.
There are many reasons for the lower rate of miscarriage with a healthy, whole foods diet: from an increased intake of all sorts of nutrients (vitamins, minerals, flavanols, etc.), rich in anti-oxidants, less oxidative stress, lower rates of inflammation, boosts the immune system, to feeding beneficial microbes in our gut microbiome.
Fun fact: the developing fetus can taste the foods the mother eats.
From Medical Xpress: Diet high in fruit and vegetables linked to lower miscarriage risk
A preconception and early-pregnancy diet that contains lots of fruit, vegetables, seafood, dairy, eggs and grain may be associated with reducing risk of miscarriage, a new review of research suggests. ...continue reading "A Good Diet Is Associated With Lower Rates Of Miscarriage"