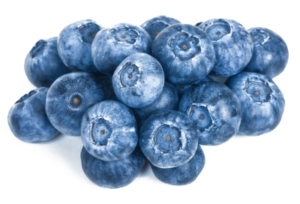 What's with the blueberry obsession in medical studies? Another study finding health benefits with frequent eating of blueberries was recently published in the American Journal of Clinical Nutrition. Researchers at the Univ. of Anglia in the United Kingdom found that eating one cup of blueberries daily for 6 months reduced risk factors for cardiovascular disease (e.g. improvements in endothelial function, systemic arterial stiffness, and HDL cholesterol concentrations). They predicted that this would result in 12 to 15% reductions in heart (cardiovascular) disease risk.
The nicely done study was conducted on 138 overweight or obese men aged 50 to 75 years, all with Metabolic syndrome (e.g. hypertension, low levels of HDL cholesterol, impaired fasting glucose) - thus a group at risk for heart disease. Interestingly, ingesting 1/2 cup of blueberries a day did not have health benefits  - only 1 cup of blueberries a day did. So it was dose dependent -the more, the better. However, the study did not find any improvements in blood pressure or insulin resistance (glucose control) at the end of 6 months.
Remember, one should not focus on individual foods (e.g. blueberries), but should strive for a good dietary pattern, such as the Mediterranean diet. That means a diet rich in fruits and vegetables, whole grains, seeds, nuts, and legumes. These foods have lots of fiber and feed the beneficial microbes in the gut. Eating one beneficial food such as blueberries won't overcome an entire unhealthy dietary pattern, such as the Western one (lots of highly processed foods, low in fiber, lots of fast food, sugary drinks, etc).
BOTTOM LINE: While this study focused on blueberries, research shows that eating all types of berries (blueberries, blackberries, raspberries, lingonberries, bilberries, strawberries, etc.) have health benefits. One should actually try eating a variety of berries, if possible, because they all have different nutrients, microbes (to feed beneficial bacteria in the gut), and different health benefits.
From Medical Xpress: Eating blueberries every day improves heart health   ...continue reading "Eating Blueberries Frequently and Heart Health"