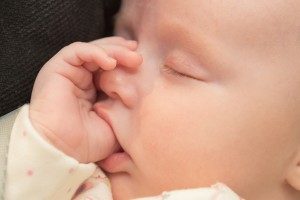 There are microbial differences (microbiome) in babies who are born by cesarean vs vaginal deliveries. Research shows that bacterial differences can be minimized by a simple procedure - swabbing the newborn infant with the mother's vaginal fluids (using a gauze pad).
An infant normally picks up bacteria during birth as it passes through the birth canal, and these bacteria "seed" (colonize) the baby's skin and gut microbial community. On the other hand, babies born by C-section are colonized by microbes floating around in the operating room (from doctors, nurses) and these are predominantly skin bacteria. These bacterial differences between babies born by vaginal birth or C-section persist and are thought to explain some health differences between babies born vaginally or by C-section.
Dr. Dominguez-Bello has been doing a long-term study in which babies born by cesarean section are immediately swabbed with a gauze cloth soaked with the mother's vaginal fluids (which contain the mother's microbes). This resulted in the infants' skin and gut microbial community being more like vaginally born babies. These microbial changes persisted during the first year of life.
Such big changes from such a small procedure!
From The Scientist: Maternal Vaginal Fluids Mimic Microbe Transfer of Vaginal Birth
Babies born by C-section carry an increased risk of immune and metabolic disorders later in life, which studies have suggested may be associated with the communities of microbes on and in their bodies at the time of birth.  ...continue reading "Missing Birth Canal Bacteria Can Be Restored to Cesarean Birth Babies"