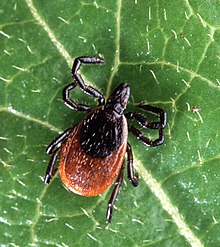 Summer is here, people are spending outdoors, and so there is concern about ticks and the diseases that they carry. New research (an analysis of existing data and studies) determined that more than 14% of the world's population now has or had Lyme disease (Lyme borreliosis)! They can tell from antibodies in the blood. Yikes!
Here in the United States people tend to think of Lyme disease as an increasingly common disease spreading from the northeast US to other parts of the country. But in reality the incidence of the tick-borne disease is highest in central and western Europe, as well as eastern Asia. In fact, Lyme disease or Borrelia burgdorferi (Bb) infection is the most frequent tick transmitted disease world wide.
The researchers found that some factors associated with higher incidence of Lyme disease is being male, 50 years and older, living in a rural area, and having had tick bites. In the northeast US infected deer ticks (Ixodes scapularis) are responsible for most cases of Lyme disease. [Other Lyme disease and tick articles, including treatments and controls.]
From Medical Xpress: More than 14% of world's population likely has (had) tick-borne Lyme disease
More than 14% of the world's population probably has, or has had, tick-borne Lyme disease, as indicated by the presence of antibodies in the blood, reveals a pooled data analysis of the available evidence, published in the open access journal BMJ Global Health.  ...continue reading "Lyme Disease Is Common Throughout Parts of the World"