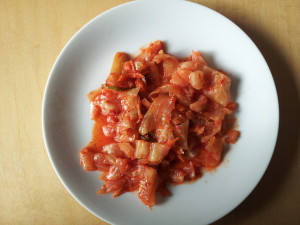 It has been known for a while that eating fermented foods and high fiber foods is healthy for us. A recent study confirms this view. Researchers at the Stanford Univ. of Medicine found that eating fermented foods actually reduces inflammation and increases the diversity of gut microbes (gut microbiome).
Researchers randomly assigned volunteers to one of 2 groups for 10 weeks: the fermentation foods group, and the high fiber group. Surprisingly, the group eating the high fiber diet for 10 weeks did not have changes in microbial diversity or changes in the 19 inflammatory markers studied. Instead, the researchers reported that the high-fiber diet "changes microbiome function and elicits personalized immune responses".
The fermented foods group ate a diet rich in yogurt, kefir, fermented cottage cheese, kimchi and other fermented vegetables (e.g. sauerkraut, traditional dill pickles), vegetable brine drinks, and kombucha tea. The high fiber diet was rich in legumes, seeds, whole grains, nuts, vegetables, and fruits.
High-fiber diets are associated with numerous health benefits such as lower rates of numerous chronic diseases and mortality. The consumption of fermented foods can help with weight maintenance and may decrease the risk of diabetes, cancer, and cardiovascular disease.
From Futurity: Fermented Food Diet Boosts Microbiome and Cuts Inflammation
In a clinical trial, 36 healthy adults were randomly assigned to a 10-week diet that included either fermented or high-fiber foods. The two diets resulted in different effects on the gut microbiome and the immune system. 
...continue reading "Fermented Foods Are Good For Your Gut Microbiome"