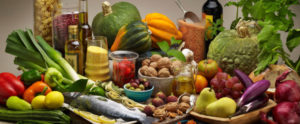 A number of recent studies and articles have discussed the effectiveness of diet in treating or preventing depression with the main conclusion that yes, it helps. Now an observational study (that will be presented in April) found that elderly people following the DASH diet most closely were 11% less likely to become depressed over time than those that did not.
Researchers studying 964 elderly participants over six and a half years found that those who followed the DASH diet, which emphasizes whole grains, fruits, and vegetables, had lower rates of depression, while those who ate a traditional Western diet were more prone to depression. The DASH (Dietary Approaches to Stop Hypertension) diet also emphasizes low sodium (salt) to lower blood pressure, as well as foods rich in nutrients (such as potassium, calcium, and magnesium) that are thought to lower blood pressure.
The study's lead author L. J. Cherian (at Rush Medical Center in Chicago) said that "we need to view food as medicine". Yes. Eating more fruits and vegetables, whole grains, legumes, seeds, nuts have many health benefits (such as cardiovascular benefits, improving the gut microbes) -  a win-win. From Science Daily:
Diet shown to reduce stroke risk may also reduce risk of depression
People who eat vegetables, fruit and whole grains may have lower rates of depression over time, according to a preliminary study that will be presented at the American Academy of Neurology's 70th Annual Meeting in Los Angeles, April 21 to 27, 2018. The study found that people whose diets adhered more closely to the Dietary Approaches to Stop Hypertension (DASH) diet were less likely to develop depression than people who did not closely follow the diet. In addition to fruit and vegetables, the DASH diet recommends fat-free or low-fat dairy products and limits foods that are high in saturated fats and sugar. Studies have shown health benefits such as lowering high blood pressure and bad cholesterol (LDL), along with lowering body weight.  ...continue reading "DASH Diet Linked To Lower Rate of Depression"