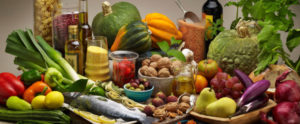 Another recent study confirmed that what you eat determines the microbes living in your gut (small intestines). This is the gut microbiome or microbiota (the community of bacteria, fungi, viruses). The microbes living in a person's gut can be determined by analyzing a sample of a person's poop.
The researchers found that persons eating more fruits, vegetables, and foods high in fiber (e.g., whole grains, fruits, vegetables, nuts, seeds) have gut microbes associated with health. They also have more diversity of species in the gut (this is a sign of health). But eat a diet rich in highly processed foods and low in fiber, and you'll have microbes associated with health problems (e.g., heart disease, cancer, diabetes).
The researchers point out that following the recommendations of the Dietary Guidelines for Americans (DGA) supports a healthy gut microbiome. Especially important for a healthy gut microbiome were vegetables, whole grains, legumes, and dairy. Yes, dairy foods have oodles of microbes (your cheese is alive!), whole fat dairy is beneficial, but skim milk or 0% is not. Eating a variety of high fiber foods is important because then you'll be eating a variety of fibers.
Bottom line: you are what you eat.
Excerpts from Medical Xpress: How diet quality affects the gut microbiota to promote health
We know that eating a healthy diet affects body weight, cholesterol levels, and heart health. A new study from the University of Illinois focuses on another component: the role of diet in supporting a healthy gastrointestinal microbiota. The researchers conclude that following the Dietary Guidelines for Americans (DGA) promotes a gut microbiota composition that may support overall health. ...continue reading "Certain Foods Are Great For Gut Health"