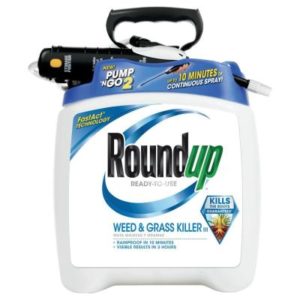 Does the pesticide glyphosate cause cancer or not? The latest in the controversy surrounding glyphosate (in Roundup), which is the most commonly used herbicide (weed-killer) in the world, is a journal article written by Dr. Charles Benbrook. He looked at why 2 government agencies came out with conflicting views regarding glyphosate - the EPA said glyphosate is "not likely to be carcinogenic to humans", while the International Agency for Research on Cancer (IARC) considers glyphosate as  "probably carcinogenic to humans". Benbrook points out a number of problems with the EPA designation. Uh oh.
It appears that the studies the EPA looked at were not as up to date (they ignored at least 27 recent studies), they relied heavily on the manufacturer's own studies (bias!!! after all, the manufacturer wants to sell the pesticide) rather than studies done by independent researchers, and the EPA ignored work that shows that the product Roundup (with its extra ingredients) is more toxic than glyphosate alone. But guess what - in the real world people are exposed to Roundup, not just to pure glyphosate.
Increasing numbers of studies are finding health effects (cancer, kidney problems, endocrine disruption, etc) from exposure to glyphosate, and it turns out we're exposed to it daily in the foods we eat (here, here). And yes, studies show that most of us have glyphosate residues in us (it can be measured in our urine). What is it doing to us to constantly eat foods with low doses of glyphosate residues? What about pregnant women and their unborn babies?
The investigative journalist Carey Gillam has been extensively following and writing for years about the controversies, the corruption, the unethical behavior of big-business (especially Monsanto, the manufacturer of Roundup), the close ties with Monsanto at the FDA, the refusal of US government agencies to test for glyphosate residues in our food, and the cover-ups surrounding Roundup (glyphosate). In 2017 her incredibly thorough and well-researched book about Roundup was published: Whitewash: The Story of a Weed Killer, Cancer, and the Corruption of Science. Carey Gillum is also the author of the following article from Environmental Health News:
New analysis raises questions about EPA's classification on glyphosate weed killer
A little more than a month ahead of a first-ever federal trial over the issue of whether or not Monsanto's popular weed killers can cause cancer, a new analysis raises troubling questions about the U.S. Environmental Protection Agency's (EPA) handling of pertinent science on glyphosate safety.  ...continue reading "Researcher Says EPA Disregarded Evidence About Glyphosate and Cancer"